Ross and Rachel songs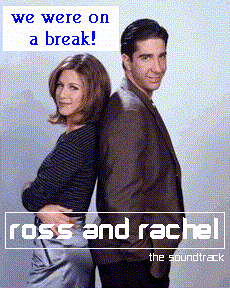 If I was to create a CD soundtrack for R&R then these are the songs I would choose to add. This soundtrack is available on tape (directly sent by me) for a mere $10 (£7). Serve Chilled is now available for the same price.
---
We Were On A Break - The Official Soundtrack

Track 1: U2 - With Or Without You
This just had to be the theme song. Download a sample here.

Track 2: Dario G - Sunchyme
I'd like to incorporate this as Rachel's favourite song. It's pretty relaxing.

Track 3: Sash! - La Primavera
French artist Sash! has come up with an airy and relaxing tune.

Track 4: All Saints - Never Ever
Never Ever has a great tune and interesting lyrics.

Track 5: Babybird - You're Gorgeous
The name of the song sums it up really!

Track 6: The Rembrandts - I'll Be There For You
The song we know and love!

Track 7: Bamboo - Bamboogie
Remember The One With The Prom Video? Get down tonight!

Track 8: Ultra Nat&eacute - Found A Cure
One of the dance classics of this year.

Track 9: Hootie and The Blowfish - I Go Blind
This is Ross' favourite song. That's really its only significance.

Track 10: Sash! - Stay
This is thrown in because it's my favourite song and the lyrics are somewhat relevant to the Ross/Rachel story.
---
Serve Chilled - R&R's second soundtrack

Track 1: Cornershop - Brimful Of Asher

Track 2: Wildchild - Renegade Master '98

Track 3: Foundation nightclub - Basis Of Life

Track 4: Berri - Sunshine After The Rain

Track 5: Robbie Williams - Old Before I Die

Track 6: Tori Amos - Proffesional Widow

Track 7: Sash! - Ecuador

Track 8: The Original - I Luv U Baby

Track 9: Ocean Colour Scene - The Day We Caught The Train

Track 10: Sash! - Encore Une Fois
---
Well that would be it. If you like the selection then say so or if not then still mail me.
---
---

This page has been visited
times